Contact - Kompass GmbH
Bismarckallee 2 a
79098 Freiburg
Germany
Legal information - Kompass GmbH
| | |
| --- | --- |
| Nature | Headquarters |
| Year established | 2003 |
| Legal form | Gesellschaft mit beschränkter Haftung |
| Activity (NAC08) | Other personal service activities n.e.c. (9609) |
| Corporate capital | 25,000 EUR |
| Handelsregister | HRB 712480 Freiburg |
| VAT no | DE237465482 |
| No employees | 20-49 Employees |
Presentation - Kompass GmbH
KOMPASS is the leading international business information database for purchasing, distribution and marketing needs. General company information, addresses including contact persons from top and middle management as well as product information of over 43 million leading B2B companies in all industries from over 60 countries is available to acquisition, telephone marketing, mailings and direct marketing campaigns. The B2B search engine is used by purchasers as a database for searching and finding suppliers. Companies present their products/services with online and display marketing campaigns, display and banner advertisements and enhance their ranking with SEO measures in search engines and the Kompass portal. The Kompass network is based on a market oriented
classification system with more than 56.000 products/services
available in 26 languages. All B2B companies are categorised according to what they offer and therefore, may be selected by target groups. Lists containing qualified data may be compiled according to regions, countries and continents and are the base for the successful acquisition of new potential customers. Therefore, national and international acquisition measures may be taken in order to precisely target new potential customers.
More infos about KOMPASS
KOMPASS classification in englisch
The Kompass Organisation has qualified partners throughout the world and cares continuously for updating and extending the B2B databases. Kompass was established in Switzerland in 1947 and has been active in Germany since 1972.
Company's Videos - Kompass GmbH
General Information - Kompass GmbH
Client references - Kompass GmbH
Herr Enis Azemi
CEO - Chief Executive Officer (Geschäftsführung)
News - Kompass GmbH
Other
KOMPASS launcht content-basiertes B2B Firmenportal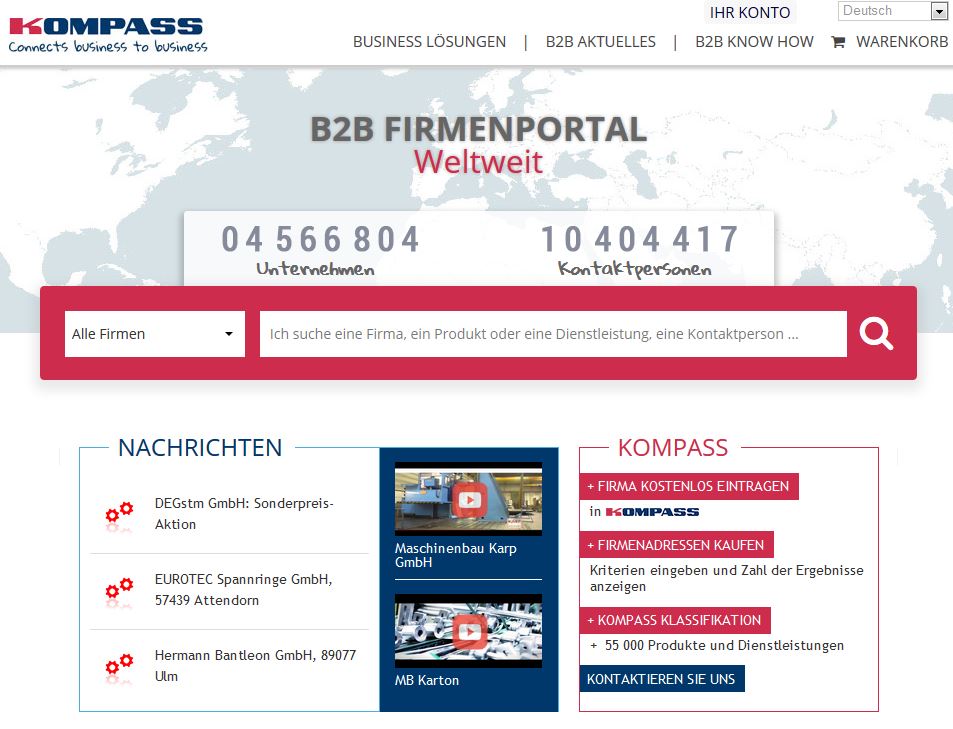 Date: May 15, 2014 12:00 AM
Das führende internationale Unternehmensverzeichnis KOMPASS.com bietet standardisierte B2B Unternehmensinformationen aus 70 Ländern. Marketer und Vertriebsprofis können auf mehr als 4,6 Millionen klassifizierte Firmenprofile internationaler Unternehmen sowie auf Kontaktdaten von über 9 Millionen Führungskräften weltweit zugreifen. Freiburg i.Br., 14.05.2014 – Das FREEMIUM Model der KOMPASS Webseite bietet einen kostenlosen Einstieg in das content-basierte Firmenportal. Marketing und Vertrieb posten Fotos oder Videos von Produkten und zeigen Flagge, wo internationale B2B Entscheider nach neuen Lieferanten oder Geschäftspartnern suchen. Über die Verlinkung zur eigenen Firmenwebseite können interessierte Käufer mit den Unternehmen direkt in Kontakt treten. Zur Steigerung der Sichtbarkeit und Bekanntheit in globalen Märkten kann zusätzlich das Firmen-Logo hochgeladen werden. Der PREMIUM-Zugang bietet weitere zugkräftige Online-Marketing-Module für den deutschen B2B Markt. Für ausgewählte Auslandsmärkte können lohnende Marketing-Kampagnen gestartet werden zu Eröffnungen von Auslandsniederlassungen, Einführung von Produkten auf ausländischen Märkten, Teilnahmen an Auslandsmessen, etc. Zielgenaue Akquise garantiert das Targeting-Modul: EASYBUSINESS. Ohne Umwege können Kunden auf den gesamten Datenbestand zugreifen und diesen für strategische Entscheidungen für Kampagnen und Analysen nutzen. Mittels einem ausführlichen Kriterienkatalog können treffgenaue Zielgruppenbestimmungen durchgeführt werden. Die Kriterien umfassen neben den allgemeinen Informationen die wichtigsten Kennzahlen wie klassifizierte Produkte, Umsatz, Mitarbeiterzahl, kartografische Ansicht des Firmenstandorts, etc. Darüber hinaus kann nach Regionen, Ländern oder Kontinenten selektiert werden. Besonders wertvoll sind für Marketing und Vertrieb detaillierte Informationen zum Management der Unternehmen. Die Suchergebnisse bieten neben der Ergebnisliste auch die Darstellung von Firmenprofilen mit Geschäftsbereichen. Per Klick läßt sich der Export von Daten mit unterschiedlichen Informationstiefen starten. Möglich ist auch der Abgleich mit einem bereits vorhandenen eigenen Datenbestand. "Gerade in international agierenden Unternehmen befassen sich häufig mehrere Abteilungen mit der Planung von Kampagnen und Aktivitäten. Durch den Online-Zugang können mehrere Nutzer ortsunabhängig auf alle Funktionen der internationalen Datenbank zugreifen. Marketing- und Vertriebsaktionen lassen sich somit effizient steuern", erklärt Emmanuel Facovi, International Director, Headquarter, Paris und Geschäftsführer der Kompass GmbH. "Wir freuen uns, unseren Kunden all diese Vorteile bieten zu können."




Other
Kompass ist Sponsor: Demographie Exzellenz Award 2014 - Leuchtturmprojekte gesucht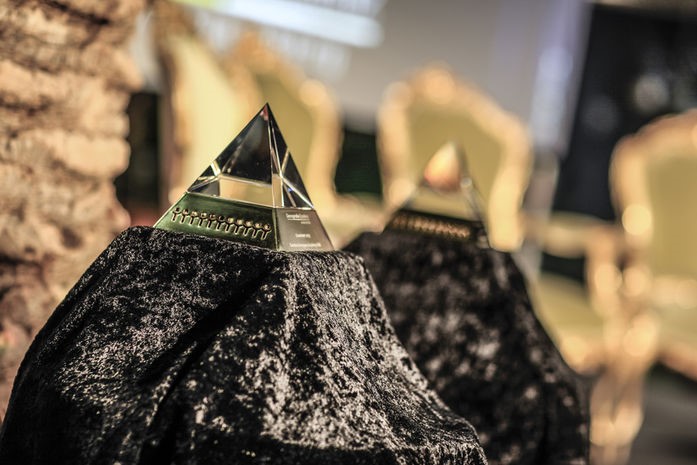 Date: April 30, 2014 12:00 AM
Die Bewerbungsphase für den Unternehmenswettbewerb "Demografie Exzellenz Award Baden-Württemberg 2014" ist angelaufen.
Bis zum 31. August 2014 können baden-württembergische Unternehmen, Körperschaften und andere Organisationen aus Industrie, Handel, Handwerk und Dienstleistung wieder ihre Bewerbungen für den Demografie Exzellenz Award Baden-Württemberg einreichen. Gesucht werden abgeschlossene oder in der Realisierung befindliche Demografieprojekte aus den Bereichen Personal, Produkte oder Services mit Leuchtturm-Charakter. Der Wettbewerb wird vom Forum Baden-Württemberg im Bundesverband Deutscher Unternehmensberater (BDU) sowie vom Demographie Netzwerk e.V. (ddn) seit 2010 organisiert. Den Award stiftet der BDU. Die Preisverleihung findet am 10. November 2014 im Rahmen eines Festaktes im Museum Frieder Burda in Baden-Baden statt. Förderer der Initiative sind die Techniker Krankenkasse, die Bundesagentur für Arbeit, der DGB Baden-Württemberg und verschiedene Firmen aus dem Bundesland.

Der Demografie Exzellenz Award Baden-Württemberg will den Blick für die betrieblichen Auswirkungen des demografischen Wandels schärfen. Mitarbeiter verbleiben länger im Berufsleben, die Erwerbsbeteiligung der Frauen steigt und Arbeitskräfte mit Migrationshintergrund werden unverzichtbar. Die Auswirkungen auf die Wettbewerbsfähigkeit, die Innovationskraft und die Produktivität nehmen zu. Gesundheit und Wohlbefinden am Arbeitsplatz, Anreizsysteme, Lebenslanges Lernen, Arbeitszeit- und Karrieremodelle, Umgang mit Kernkompetenzen, Bewältigung kultureller Vielfalt, Demografiefestigkeit von Produkten, Bewegungskonzepte und Gesundheit, Mobilität und Kommunikation, Mobile Dienste, Reisen und Online Shops oder demografieorientierte Ladenkonzepte sind daher nur einige Handlungsfelder, mit denen die Teilnahme am Wettbewerb möglich ist.
Teilnahmebedingungen:
Die Teilnahme ist kostenfrei. Weitere Details und Teilnahmeunterlagen: http://www.demografie-exzellenz.de
Opening hours - Kompass GmbH
Activities - Kompass GmbH
Producer
Distributor
Service provider
Main activities within the Kompass classification
Other classifications (for some countries)
NACE Rev.2 (EU 2008) : Other personal service activities n.e.c. (9609)
ISIC 4 (WORLD) : Other personal service activities n.e.c. (9609)
Secondary activities within the Kompass classification