New product
Winmate's Next Generation E430RQ8 Rugged Handheld Computer with Qualcomm® Snapdragon™ 660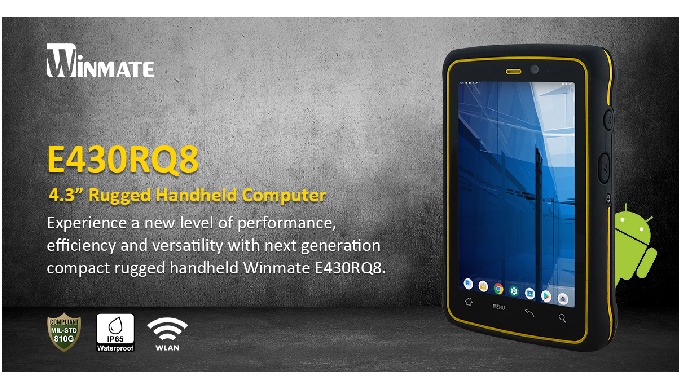 Start date: April 12, 2022 4:00 AM
End date: April 11, 2025 3:08 AM
Winmate's Next Generation E430RQ8 Rugged Handheld Computer with Qualcomm® Snapdragon™ 660​
Experience a new level of performance, efficiency, and versatility with next-generation 4.3-inches rugged handheld computer Winmate E430RQ8!
Winmate
, the global leader in developing advanced rugged mobile technologies for industries operating in some of the most challenging environments, is proud to announce the launch of the next-generation 4.3-inch rugged handheld computer
E430RQ8
powered by Qualcomm® Snapdragon™ 660 mobile platform and running on Android 9.0 operating system.
As an industrial-grade solution for the harshest work environments and outdoor use, the
E430RQ8
rugged handheld computer offers full IP65 rated for protection against dust, dirt, and water ingress. The tablet has passed the MIL-STD-810G testing for shock, vibration, and accidental drops from 5 ft.
Equipped with wireless connectivity WLAN 802.11 a/ b/ g/ n/ ac and BT, the
E430RQ8
allows connecting to the internet directly, offering field workers ultimate productivity, access to critical information, and real-time communications. The E430RQ8 supports NFC by default; depending on the NFC use case, the transaction uses three operating modes: Read/ Write, Peer-to-Peer. Now field workers can independently perform process procedures and initiate or execute work orders while in the process area.
For all-day productivity, the
E430RQ8
rugged handheld computer features up to 20 hours long battery life, meaning field workers can be better able to focus on the task at hand while having a portable solution within easy reach and use it all day long.
The E430RQ8 is compliant with SOTI MobiControl, the world's leading software provider for mobile device management, and allows users to fulfill their demands to control and secure enterprise mobile devices MobiControl. With SOTI's MobiControl corporate IT managers or individuals are allowed to access/ control/ track/ manage all enterprise-owned E430RQ8 units over-the-air to give remote monitoring and support anytime, anywhere. By pairing the
E430RQ8
Rugged Android Tablet with SOTI Mobicontrol, enterprises can increase business efficiencies by keeping them updated, reducing the cost, complexity, and downtime of business-critical mobility.
The
E430RQ8
rugged handheld computer comes with various accessory choices – lanyard, leather holster with shoulder strap, vehicle charging dock – to provide the best fieldwork experience.
For more information about Winmate E430RQ8, please visit the official website at
https://www.winmate.com/Product/E430RQ8
About Winmate
Winmate Inc. is a rugged computing and embedded solutions provider for industries operating in some of the most challenging environments. Founded in 1996 in Taipei, Taiwan, where its headquarters, research, development facility, and production lines are located, the company has offices and service centers worldwide. Winmate develops rugged industrial-grade computing solutions that advance the Industrial Internet-of-Things (IoT). Industrial display and panel PC, HMI, embedded systems, IoT gateways to rugged tablets, and handheld devices for industries ranging from transportation and logistics to marine and military, railway, oil and gas, smart grid, healthcare, and field services. Winmate also provides professional services in customizing products and project management to create a unique customer's needs.
For more information, visit
www.winmate.com
.