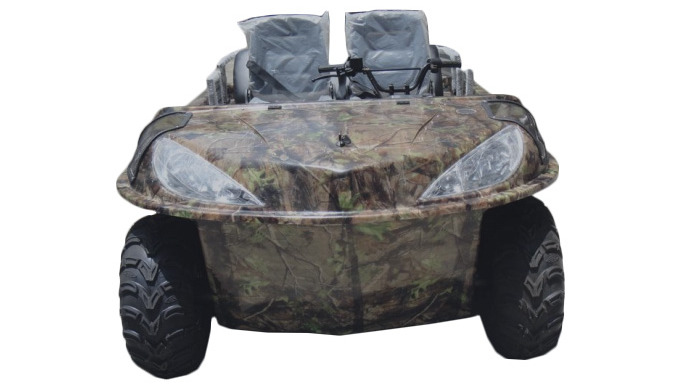 8x8 800cc Amphibious Vehicle
Specifications of8x8 800cc Amphibious Vehicle
ENGINE : 2/3-cylinder,inline,4-stroke,SOHC, electronic-fuel
injection(EFI)
HORSEPOWER : 36 HP/26.7 KW(5500r/min) 60.5 N.m...
Description of the Product
8x8 800cc Amphibious Vehicle
Specifications of 8x8 800cc Amphibious Vehicle
ENGINE : 2/3-cylinder,inline,4-stroke,SOHC, electronic-fuel
injection(EFI)
HORSEPOWER : 36 HP/26.7 KW(5500r/min) 60.5 N.m
3000~4000r/min
DISPLACEMENT : 796cc
COOLING : Water cooled
STARTING : Electric
STEERING : One-piece ergonomic handlebar steering control
with mounted brake lever and parking brake
CONTROLS : Right-hand twist grip throttle. Light switch and
ignition switch
CLUTCH & TRANSMITION : Belt-driven, Continuously Variable Transmission(CVT) maximizes engine power to the
transmission with high and low range forward
DRIVE SYSTEM : Roller chains drive. Bearings are grease able, and
are protected with double-sealed outer flange assemblies
FRAME : Formed steel channel construction, welded for
high strength and durability. Polyester powder coated
for lasting protection
BODY : Fiberglass or metal
LOAD CAPACITY : Land 750 kg., water 650 kg.
TOWING CAPACITY: 1200kg
SEATING CAPACITY: Land 6 person , water 6 person
FUEL CAPACITY : 40 liter
SPEED : Land 50km/h , water 15-20 km/h
LCD DIGITAL GAUGE CLUSTER : Speed, Distance, Voltmeter, Low Oil Pressure
and Parking Brake Reminder Lights
TIRES : 24 x 11-10
SHIPPING WEIGHT : 1000kg
Dimension : 290*170*115cm
Use: tourism, farm, beach entertainment etc.
Category of the Product
Ask for information
Our recommended products and services