Mechanical Training Courses for Companies and Schools
- Product
Las Vegas -
United States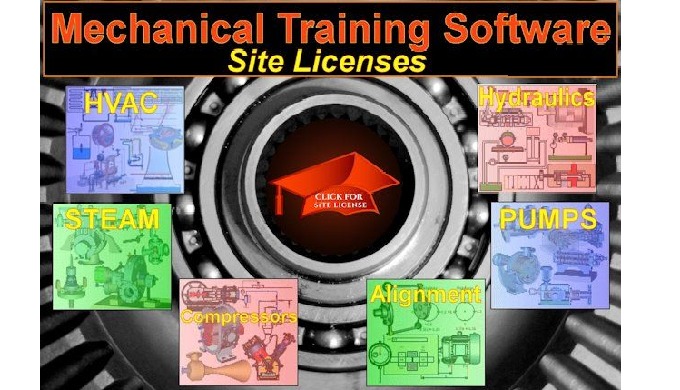 Perpetual Site licenses for Schools & Company training departments. Are youlooking to integrate blended or online instruction into your curriculum, but don't have the capacity to create your own mechanical engineering content modules and courses? This mechanical engineering series for maintenance and engineering is much less expensive and more
Description of the Product
Perpetual Site licenses for Schools & Company training departments. Are you looking to integrate blended or online instruction into your curriculum, but don't have the capacity to create your own mechanical engineering content modules and courses? This mechanical engineering series for maintenance and engineering is much less expensive and more interactive than learning institutions are used to being offered by other educational software providers.
The unique real-world hands-on experience of these Mechanical Engineering and Maintenance Courses deliver the bridge between theoretical knowledge derived from books to practical knowledge of industrial equipment working and engineering practices. As a result, these courses enable highly effective instructor-led training as well as provide a powerful tool for student self-learning in the classroom or across the school or company intranet.
Each Maintenance and Engineering course includes ...
Practical knowledge
Comprehensive, Well-structured, Informative, and Interesting Content
Multiple-choice questions
Greater interactivity
Enhanced Graphics and Diagrams with Relevant Text / Audio
Powerful Animations
Glossary
Games - Component Assembly
Skill Test
Students can print Certificate of completion
☑SCORM versions available for an additional fee
See the mechanical engineering certificate courses offered to supplement your mechanical engineering requirements. These trade certificate courses are used by companies and colleges around the world to better educate their mechanical engineers and maintenance. Please contact us if you need a SCORM compliant version that works with your particular LMS software.
Mechanical Training Course list:
INDUSTRIAL HYDRAULICS
:
40hrs
REFRIGERATION & AIR CONDITIONING
:
40hrs
AIR COMPRESSORS
:
30hrs
MECHANICAL POWER TRANSMISSION
:
16hrs
STEAM TURBINES
:
16hrs
OIL EXPLORATION TO PRODUCTION
:
16hrs
DISTILLATION PROCESS
:
16hrs
CENTRIFUGAL PUMP & TROUBLESHOOTING
:
16hrs
POSITIVE DISPLACEMENT PUMPS
:
16hrs
ROTATING EQUIPMENT ALIGNMENT
:
16hrs
CONDITION BASED MAINTENANCE
:
16hrs
HEAT EXCHANGERS
:
16hrs
INDUSTRIAL VALVES
:
16hrs
MECHANICAL SEAL
:
16hrs
With site-licenses ...
(
Note, a site license is per physical facility/location. If you have multiple plants or campuses, you would purchase one license for each.
)
No annual fees!
Never expires!
Unlimited users!
Unlimited installations!
No internet is required after the initial installation.
Real-world interactive simulations.
Multimedia techniques to deliver practical knowledge not found in books.
Content is effortlessly accessible across a shared network.
Students can learn at their own pace, on their own schedule.
Include your school or company logo in courses.
Price of the Product
Price on request
Characteristics of the Product
Type

Training Software

Brand

YesYen
Category of the Product
I want to get more details about the product
Company catalogues - Business Industrial Network

LEAN | TPM | Autonomous Maintenance Steps (English)
3 pages

OPC for SCADA and DCS training (English)
15 pages

Automation Training Software Workbook Sample (English)
9 pages