Profile compatible machine guard safety components from Elesa
- Product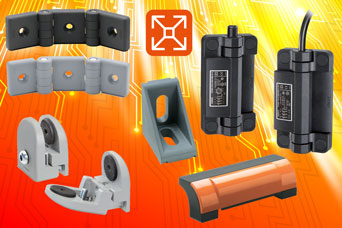 The Elesa range of
high performing machine guard safety components
is designed for compatibility with the most common aluminium profile systems used for machine guarding, equipment mounting and workstation construction.
Elesa have a focus on those...
Description of the Product
Price of the Product
Price not indicated
Technical Details
In constructing a safety housing with aluminium profile an important consideration is often the use of an electrically interlocked protective device to cut off power to the equipment in the event of accidental door opening. The Elesa CFSW hinge is a simple and convenient way to achieve this – it offers an IP67 sealed internal switch with 180° opening and mounting centres at 42mm in order to align correctly with the frame.

Mounting of panels is made simple with the PC panel support clamp designed to sit comfortably inside the frame and carry standard panels from 3.1mm up to 8.0mm.

Often multiple hinging is required for adjacent panels on a standard framework and this can be achieved with the CFI double hinge in glass reinforced polyamide. These are complimented with SQT corner support brackets which add rigidity to the frame and may be fitted with stylish dust caps to complete their installation.

For operation of doors on workstation cubicles the ESP series handles have been designed to fit machine guards or automation systems with double-leaf doors where the closed design of the handle represents a safety feature for the operator's fingers. In addition, the coloured cover improves the visibility of the handle and offers the possibility of product customization.

These 5 core components are matched with adjustable rod mounting systems for sensors and instrumentation such as cameras and counters.
Category of the Product
I want to get more details about the product