Sesame oil - Seowondang GOT(Fresh Oil)
- Product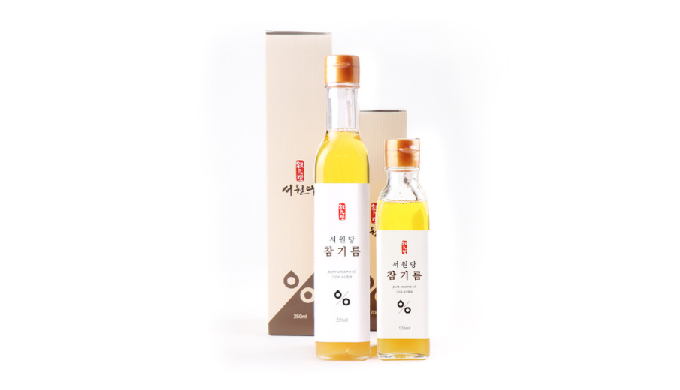 Seowondang GOT(Fresh Oil)
Sesame Oil

Seowondang sesame oil used only by the best sesame seeds grown directly in Gangwon-do is made by low-temperature pressing method. It is 100% Korean sesame oil with superior quality and savory taste.

Effects of Sesame oil
Ses
Description of the Product
Seowondang GOT(Fresh Oil)
Sesame Oil

Seowondang sesame oil used only by the best sesame seeds grown directly in Gangwon-do is made by low-temperature pressing method. It is 100% Korean sesame oil with superior quality and savory taste.

Effects of Sesame oil
Sesame oil holds a fabulous nutritional profile. It is full of Lignan, a unique antioxidant material that prevents or delays oxidation, and this helps to prevent human aging. Sesame oil is also effective for anti-aging, preventing hair loss, and blood circulation.
Price of the Product
Price not indicated
Characteristics of the Product
Type

Sesame oil

Origin

Republic of Korea
Technical Details
170ml / 250ml
Category of the Product
I want to get more details about the product
Company catalogues - Seowondang Food Co.

catalogue_seowondang (English)
6 pages

Catalogue (English)
12 pages